ZERO WASTE
INTRODUCTION
We live in a society where there is a risk of self-destruction of humanity. Some environmental damage is already irreversible, but many processes can still be stopped. People must learn a new approach to the world of living beings, and to be responsible.  Fortunately, In  recent years there has been  a huge increase in the  interest of environmental protection, which is evidenced by the developing social ecological movements, the emerging environmental education system or the environmental protection programmes being formulated to solve problems both locally and regionally. For this reason, new trends are emerging in the business world. One of them is the 'Zero Waste' trend. The term refers to a workplace where natural resources, time, money, health and talent are not wasted. . Employees and customers are changing their approach to purchasing and services, they are requesting sustainability, and bold solutions that reduce the waste of natural resources. Such expectations can be effectively combined with more efficient business operations.
TASKS
In this section we explain clearly and precisely what learners have to do, it should be motivating and interesting and where possible, it should include activities that contribute to the development of skills that they will use in their daily lives.  Guidance should be given on how to present findings; for example, maps, graphs, essays, wall displays and diagrams.
You are a business student. On the occasion of Earth Day, representatives of a well-known environmental organisation in your area came to your school. During this event, they present important and unfortunately depressing changes that are taking place on our planet – climate change, extinction of some animal species, increasing emissions of greenhouse gases and more… Although it is terrifying, they have not come to frighten you, but to make you aware of and encourage you to fight for our planet! Young people are the future of this world, so as a generation of future entrepreneurs, you are tasked with creating a list of zero waste habits that exemplify ethical & sustainable thinking and which you would apply in your company/organisation or school and by your actions can contribute to saving our planet.
After completing this part of the task, it will be time for a group discussion to create group presentations for younger students that show what we can do to contribute to the good of our planet right now.
PROCESS
In this section there are a set of steps and research tasks set out, using predefined sources that are predominantly web-based usually in a clickable form. This stage has usually one or more "products" that learners are expected to present at the end. These products form the basis of the Evaluation stage. For each step in the process, there should also be a series of links included (3-4 per step).  These links should be fore videos, articles, blogs, webpages, etc. that the learners can visit to help them to complete the task. Links should be embedded in the WebQuest to sites, pages, databases, search engines etc.
Step 1: Defining the terms
To better understand why ethical & sustainable practices are so important, it is good to start by defining these terms.
Sustainable- The Cambridge dictionary defines it as "causing little or no damage to the environment and therefore able to continue for a long time"
Ethical – "relating to beliefs about what is morally right and wrong" or simply "morally right"
For more information on these and related terms, please refer to the links provided:
https://leadingincontext.com/?s=what+is+ethical+thinking
https://youmatter.world/en/definition/definitions-sustainability-definition-examples-principles
http://zwia.org/zero-waste-definition
Step 2: Online research
The next step will be to research the internet in order to find examples of ethical & sustainable thinking and zero waste strategies that benefit the local community and create value by:
Individuals, families, schools
entrepreneurs, companies, government
Looking for such examples is essential because it will help you generate better ideas that you might want to apply in the future to create value and environmental benefits in your community or in your workplace.
To make your research effective and to ensure that the information you find is relevant to what you are looking for, read this article which shows you how to do a quick and effective research on any subject:
https://www.howtogeek.com/400110/how-to-research-a-topic-online
https://webwriterspotlight.com/tips-to-nail-online-research
Step 3 Listing your "zero waste" habits
Time to list your best results. You can use this template to write down your answers, or you can create your own list in a digital form or on a piece of paper is fine – the important thing is that you keep it handy for later!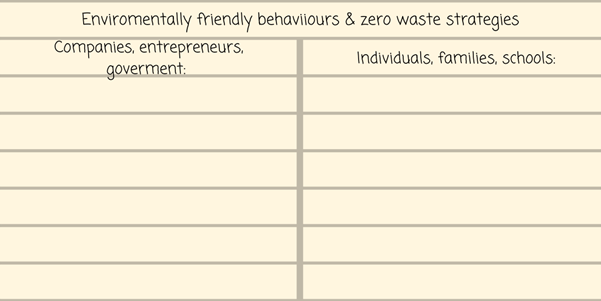 Secondly, highlight those results that you think you are able to implement in your future work/company or even to use in your everyday life. If you have come up with your own idea – add it to the list!
Here are some tips and information on what value brings listing your ideas :
https://www.forbes.com/sites/johnrampton/2017/05/26/6-reasons-long-lists-help-you-brainstorm-better-and-develop-more-creative-ideas/#96c9e8a3360c
https://www.lifehack.org/articles/productivity/9-reasons-why-you-should-use-lists-and-what-you-can-use-them-for.html
https://creativesomething.net/post/125755909960/why-organize-your-ideas-and-how-to-do-it
Step 4 Presenting your ideas & group discussion
The next step will be to present your ideas to the group. One by one, everyone should read what they have found by using their searches, and then list the ones they have highlighted and the ones they have come up with themselves.
Then the facilitator leads a group discussion. It is important for everyone to be able to talk about their opinion and to answer the following questions;
Did any of the searches shock you?
Did you understand all the strategies and behaviours you and the other participants found?
Why are ethical and sustainable thinking and zero waste practices are so important?
Have you practiced any of these behaviours so far?
Here are some tips that will help you present your ideas successfully:
https://www.entrepreneur.com/article/83496
https://www.wikihow.com/Share-Your-Ideas
Step 5: Making a presentation in groups
Finally, it is time for the last step of the task! Pair up in to groups of 3-4 participants. 
EVALUATION
Self-evaluation, comparing and contrasting of what the learners have learned, giving feedback to the trainer on how they feel, what they have learned. It also involves completing a short quiz or game on Kahoot to test their new knowledge and skills.
| Knowledge | Skills | Attitudes |
| --- | --- | --- |
| • Factual knowledge of behaviours that show integrity, honesty, responsibility, courage and commitment. | • Recognise behaviours that show integrity, responsibility, honesty, courage and commitment | • Increased regard for sustainable behaviour |
| • Basic knowledge about sustainable long-term economic goals | • Evaluate environmentally- friendly behaviour that benefits a community | • Increased regard for teamwork activities. |
| | • Recognise examples of environmentally friendly behaviour by companies that creates value for society as a whole. | • Appreciation of the value created in the local community in the past |
CONCLUSION
In this section we provide an opportunity to summarise the experience, to encourage reflection about the process, to extend and generalise what was learned, or some combination of these. Suggest questions that a trainer might use in a whole class discussion to debrief a WebQuest.
Congratulations!  you have increased your knowledge of entrepreneurship and sustainability as well as teamwork! Thanks to your presentations, your colleagues will be able to deepen their knowledge about this topic, which will result in more sustainable habits! Knowledge of sustainable development is increasing, although it still requires a thorough and comprehensive education, both in theory and in practice.  As shown by research and the reality around us, we can actively help the planet by engaging in the zero waste idea. That is why it is important to share your knowledge on this subject and encourage sustainability in every field of life! As Archbishop Desmond Tutu said: " Do your little bit of good where you are; it's those little bits of good put together that overwhelm the world. "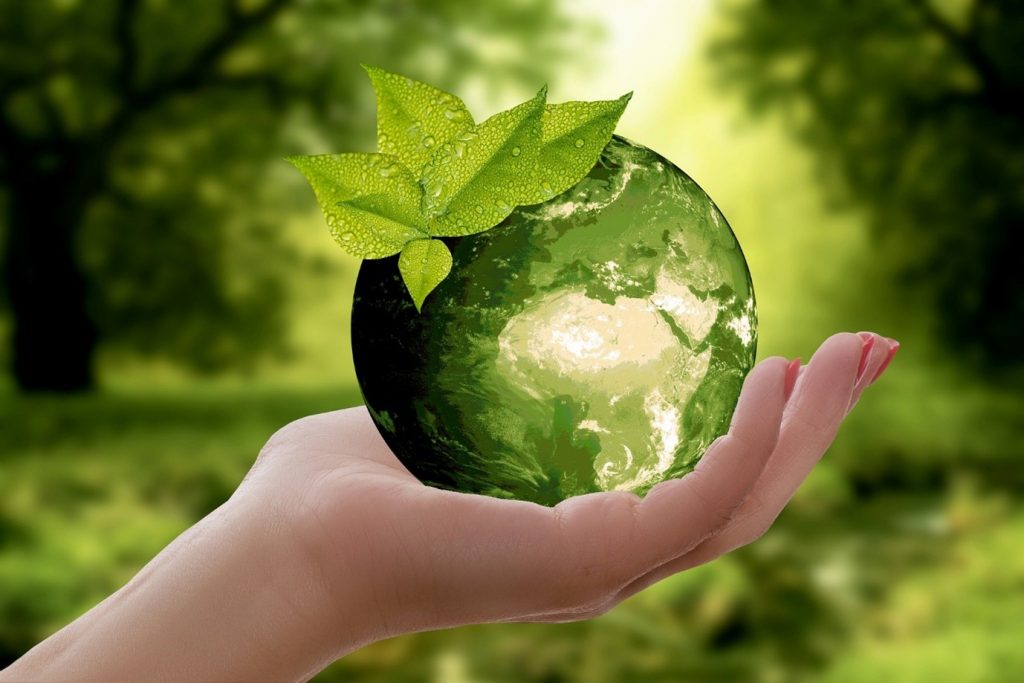 Ethical & Sustainable thinking
INTRODUCTION
Nowadays, we find ourselves struggling with various problems and dilemmas on a daily basis. Both sustainability and the ethics of important decisions is a key element in long-term goals. Companies are using the concept of sustainability and ethical thinking to expand their measure of success for their efforts from the financial bottom-line to a triple bottom line that adds social and environmental performance to economic performance. Unfortunately many organisations still tend to seek profit and neglect the ecological and social impacts of their business. As John Wooden once said: " There is a choice you have to make in everything you do. So keep in mind, that in the end, the choice you make, makes you!"
In this WebQuest you are going to try to strike the right balance between economic performance and sustainability. Also, hopefully you are going to turn these ideas into actions!
TASKS
Embracing social responsibility is a very important matter these days.
Your task is to come up with your own business and write down the sustainable and ethical strategies you would use. In your answer you should contain what kind of business it would be (sales, services etc.) and explain what social, cultural and environmental impact it would have.
Here is an example of an already existing company: Ice- cream maker, Ben & Jerry's, has been donating 7.5% of their pre-tax profits to different charitable institutions. In addition, they developed a caring dairy programme which resulted in e.g. reduced chemical fertilizers by 28% last year (Which can contribute the greenhouse gas emission and water pollution.)
You can find more sustainable strategies used by Ben & Jerry's on their site:
https://www.benjerry.com/whats-new/2018/04/toward-sustainable-dairy
Review this case study and reflect on how sustainable long-term social, cultural and economic goals are. What more could we do? In this WebQuest, you will develop and write down your ideas!
PROCESS
Step 1: How do we define sustainability and ethics?
To fully understand the topic, it is best to start by defining the key terms.
Sustainability- Sustainability is commonly understood to require the balanced pursuit of three goods: Ecological health, social equity and economic welfare
The Cambridge dictionary defines sustainability as "the quality of being able to continue over a period of time." Or in the context of the environment as "The quality of causing little or no damage to the environment and therefore able to continue for a long time."
Ethical- "Relating to beliefs about what is morally right and wrong" or simply "Morally right"
You can find more explanations and examples in these links:
https://dictionary.cambridge.org/dictionary/english/sustainability
https://www.investopedia.com/terms/s/sustainability.asp
https://dictionary.cambridge.org./dictionary/english/ethical
https://leadingincontext.com/?s=what+is+ethical+thinking
How do you understand these terms? Did the dictionary definitions help you to develop a better understanding of the topic or the task, or was it common knowledge to you before?
Step 2: Brainstorming The business dictionary defines brainstorming as a process for generating creative ideas and solutions through intensive and freewheeling group discussion. Every participant is encouraged to think and suggest as many ideas as possible, no matter how seemingly outlandish or bizarre they might be. Pair up into teams of 2-3 people and brainstorm about how sustainable long-term social, cultural and economic goals are. What can, and should, be done to prevent environmental disasters or exploitation of working conditions in the future? Write down your ideas.
Here are some useful links about brainstorming and techniques you can use during this session:
https://www.merriam-webster.com/dictionary/brainstorming
https://business.tutsplus.com/articles/top-brainstorming-techniques–cms-27181
https://www.wrike.com/blog/techniques-effective-brainstorming
https://www.mindtools.com/brainstm.html
Step 3: Analyse the consequences
Ethical and sustainable thinking in entrepreneurship is about assessing the consequences and impact of ideas, opportunities and actions. This is the matter of:
Attitudes
Behaviours
Values
Mindset
Entrepreneurs should have these features to take ethical decisions, and to think and act sustainably. It's about not thinking about the profit, but also about the people and the planet. That means, that while making the decision, the entrepreneur should also have in mind what impact this decision has on the environment and working conditions of the labourers as well as at which price to source it, to be profitable.
Following your brainstorming session, make a list of pros and cons for each of the ideas you and your team generated in this session. For more information on how to evaluate your ideas, you can use the following links:
https://innovationmanagement.se/imtool-articles/how-to-evaluate-ideas/
https://www.collectivecampus.io/blog/how-to-evaluate-ideas
Step 4: Act Responsibly
How can companies contribute to a good society through good business practices? Oh, that's easy they say – Let's just create a charity foundation or donate a lot of money and thus do good. Well, that's not how it works. That won't hurt, and may even help but it's not enacting systematic change. Companies should look to solve society's problems by creating a product or service to fulfil a need – this way they will profit and help the world. The important thing to remember is that corporate social responsibility is about how companies make profits while helping, not about how they hold on to and spend their profits. So how can we responsibly and sustainably fulfil the need while making profits?
In this links you can find more information about sustainable practices and social responsibility:
https://www.investopedia.com/terms/s/socialresponsibility.asp
Step 5: Online brainstorming & research
It is time to undertake some online brainstorm to gather more information about various sustainable strategies to help you and your team to come up with your business idea and its sustainable strategies. Remember, it's important that ideas are ethical. While doing your online research look for more examples of companies who's strategies are defined by ethical and sustainable thinking. It will help you to come up with your own idea for the task and give you some hints. Write down the examples to share them later in the discussion.
In this video you can find helpful tips to write down all your business ideas in an organised way: https://www.youtube.com/watch?v=Fqch5OrUPvA
Step 6: Presenting your business ideas!
After finishing all of the steps above it is time to present your ideas and examples of a business based on sustainable and ethical thinking strategies.
In your presentation, make sure that the following questions are answered:
What kind of company is it?
What sustainable strategies did you use in your company?
What is the course of your chosen actions?
How will your strategies impact society and the environment?
If this is your first group presentation, or if you don't feel confident enough to present in front of the whole group, here are some tips that might help you:
https://www.imindq.com/blog/make-convincing-presentations-in-4-easy-steps
https://www.mayoclinic.org/diseases-conditions/specific-phobias/expert-answers/fear-of-public-speaking/faq-20058416
Step 7: Final group discussion
After everyone has finished presenting their business examples it is time for a group discussion. If you have any thoughts or reflections that concern you or your peers' ideas don't hesitate to voice them now, but remember to be nice and not judge others. Also, don't forget the importance of teamwork and active listening. It's crucial that every person is listened to and has enough time to express their opinion without being interrupted or judged.
During the discussion, make sure that everyone has shared their opinion and answered the following questions:
What are the consequences of these ideas, and what value do they bring?
How do you understand the importance of ethical and sustainable thinking?
In your opinion, what are long-term social, cultural and economic goals?
EVALUATION
Now, that you've finished all the steps above and discussed your ideas and their consequences it is time to think about your work and progress in this WebQuest. Write out answers to the following questions and give it to the facilitator.
Self-evaluation Questionnaire
What did I learn about ethical & sustainable thinking?
What did I learn about using the internet & research techniques?
What did I learn about corporate social responsibility?
What did I learn about problem solving strategies in the business field?
I found this group work easy/difficult because…
Knowledge
Factual knowledge about the contrasting needs and interests of different stakeholders
Factual knowledge of how to analyse needs involving relevant stakeholders
Factual knowledge about the boundaries of the system that are relevant to the value creating activity
Factual knowledge of how to identify opportunities to develop further the value-creating activity
Factual knowledge of how to transform ideas into solutions that create values for others
Skills
Describe different analytical approaches to identify entrepreneurial opportunities
Combine knowledge and resources to achieve valuable goals
Identify needs and challenges that need to be met
Capitalise on and shape opportunities to respond to challenges and create value for others
Develop several ideas and opportunities to new challenges
Describe different approaches to shaping open-ended problems
Apply different problem-solving strategies both individually and in a group
Attitudes
Awareness of the contrasting needs and interests of different stakeholders 
 Openness to innovation 
Awareness of different levels of innovation 
Appreciation of the sustainable strategies used by various companies  
Appreciation of both success and failure  
Awareness of the different needs of various people  
Openness to invest in developing valuable ideas  
Awareness of the value in long-term social, cultural and economic goals 
Openness to invest in developing valuable connections and/or cultivating the established ones 
Appreciation of the potential an idea has for creating value  
CONCLUSION
Ethical and sustainable thinking is a significant topic to consider these days. It is the ability to think ahead about the consequences, and the impact of our decisions not only on our community, but also on our planet and society. Thinking ethically and sustainably is not that easy, because you can't possibly make everyone happy at the same time. But it is important to be open-minded and think not only about money and profits, but also about  how to bring value into society, while also protecting the environment and while making profit. As Albert Einstein once said "The world we have created is a product of our thinking. If we want to change the world , we have to change our thinking".