#CampaignForChange
INTRODUCTION
It is possible to be an agent of change in the world, whether it be on a big or small scale. Sometimes we can feel like everything around us is already written in stone and fixed, but when you look across centuries of history you see how continual, in process and ongoing history is – history is now! Sometimes we have to step back to gain a wider perspective and realize, it is possible to change the world. And with the internet at our fingertips it has never been easier to connect with people, wherever they are.
With that in mind, it is now your turn to harness the power of the internet for a cause you care about. You are to identify a way in which you would like to see the world change for the better and use this as the basis to develop an Instagram campaign. The campaign must be visual and one which people can participate in. Are you ready to change the world?
Your task is to develop an Instagram campaign for a cause that is important to you. You should take the idea from conception, develop it, find your target audience, and launch it on Instagram. By nature of Instagram, the campaign must be visual, its identity cohesive and It should be possible for people to participate in. Who knows, maybe you will #ChangetheWorld
PROCESS
You are going to develop and launch an instagram campaign for an issue you care about.

Step 1 Ask yourself, what do you want to see change in the world?  Watch this video to see how possible changing the world really is. Maybe you are not sure how you would change the world?  This article could provide inspiration – it details what matters most to these International Youth Ambassadors.

Step 2 Now adjust your identified issue and translate it in to a single sentence that defines the purpose of your campaign – this will become your main social media campaign goal. It is your Why. Use this article to gain understanding on how to set realistic and effective campaign goals.

Step 3
Next you must develop your concept. You need to consider:

• Who your target audience are. You can use this article for guidance on how to define your target audience. You might also want to check out similar campaigns and see how they define theirs.

• How to translate your goal into a strong visual and story-driven campaign that communicates clearly your message. Think practically…how can people participate? Here are a few examples. Don't be discouraged if the idea doesn't come instantly…you may need to spend some time brainstorming and talking about ideas with others.

Remember: You want other people to contribute and get involved with your campaign, therefore It needs to be easy to replicate , visual, and have a clear message. Some inspiration from existing examples can be found here:

• Mothercare, the UK's largest parenting retailer, launched a campaign to fightback against the casual body shaming of mothers. It involved 10 unfiltered photographs of new mothers with their children. Mums could join the campaign by posting their own unfiltered images alongside the hashtag bodyproudmums. You can find an overview of the campaign here.

• Whereloveisillegal is a project that documents and shares LGBTQI+ stories of survival from around the world. It takes a simple but powerful format, posting a portrait alongside each personal story.

• Faces of the front line is a project which purpose is to humanize the front-line through storytelling. Portraits of front line workers are posted alongside their message.

Step 4 You should develop the identity of your campaign which should be cohesive to your message. Give your campaign a name. Struggling? Use this generator Design your logo in Canva . Running short on time? Use this logo generator Decide on a hashtag. Maybe it is the same as the campaign name. Perhaps not. Learn in this article how to develop an effective hashtag.

Step 5 Launching your campaign. Download the instagram app on your phone and set up a instagram account for your campaign. Setting up. Add your logo as your profile picture, write your campaign mission in the bio and upload your first post launching the campaign.Follow 30 accounts (organisations/people/influencers/target audience) that are relevant to your campaign.Reach out to those organisations/people/friends/target audience you think will be interested in your campaign, briefly explain you campaign and ask them to participate. Optional. The future of your campaign. If this campaign is something you wish to carry on beyond the lifespan of the webquest, you can start to think of a strategy for your campaign. You may feel to take some guidance from this article.  Ask yourself: What is the content going to be? How often do you plan to publish a post? How are you going to measure and evaluate your campaign? Number of likes? Interactions with the post? Or something else?   Congratulations on the launch of your campaign!  


EVALUATION
Hopefully this task has given the space to reflect on and spot opportunities! Please fill in this short evaluation form: https://forms.gle/KpK6kf76DAMNf8eV7
On completion of this webquest, learners will develop:
Knowledge:
Basic knowledge of how to generate creative and purposeful ideas in the business field
Basic knowledge about entrepreneurial value creation
Basic knowledge about illustrating the value of an idea
Basic knowledge about different types of innovations
Factual knowledge about vision and its purposes
Factual knowledge of the usage personal abilities for identifying opportunities for value creating
Skills:
Recognise the potential of an idea for creating value
Recognise what makes an opportunity to create value
Identify opportunities to solve problems in alternative ways
Identify personal, social and professional opportunities for creating value
Refine ideas that create values for others
Attitude:
Awareness of what is needed to build a vision
Increased regard to different needs of various groups
Openness to innovation
CONCLUSION
Through completing this webquest you have learned how to take an idea from conception to completion in the form of an instagram campaign and demonstrated that you can take the initiative.

"In the middle of every difficulty lies opportunity." Albert Einstein
PandaQuest: Driving for Opportunities
INTRODUCTION
Welcome to this spotting opportunities WebQuest! Spotting opportunities is about "utilizing your imagination and abilities to identify opportunities for creating value." To begin, watch the PandaQuest: Diving for Opportunities introductory video which outlines your role and mission!
The Mission: You work for Panda Corp International in the Research and Development department. The company is struggling. You are tasked by the board with developing an innovative product that will meet the need of a new target market!

Key Vocabulary Shareholders – "Shareholders own the business, may also work in the business and Benefit directly from increases in the value of the business"
(https://www.tutor2u.net)

Target audience – "the set of customers sharing common needs, wants & expectations that a business tries to sell to." (https://www.tutor2u.net)

Red Ocean – "Red Oceans are all the industries in existence today – the known market space." (Source: blueoceanstrategy.com)

Blue Ocean – "Blue Ocean's are all the industries not in existence today – the unknown market space." (Source: blueoceanstrategy.com)

Trends – A trend is the general direction of a market or an asset's price. (https://www.investopedia.com)

Brainstorm – "to suggest a lot of ideas for a future activity very quickly before considering some of them more carefully"

Unique selling points – "a feature of a product that makes it different from and better than all its competitors" (Source: https://dictionary.cambridge.org)

Emerging market – "An emerging market economy is one in which the country is becoming a developed nation often driven by relatively high economic growth and a rapid expansion of trade and investment flows." (Source: https://www.tutor2u.net/economics/topics/emerging-economies)


TASKS
You are to undergo thorough research of the markets in your chosen county. You will swim out into the blue ocean and brainstorm a market idea and developing it. You will use industry used techniques such as Google Trends and the personas method to develop your market. Finally you will share your developed concept in a presentation to your stakeholders.
PROCESS
Step 1 Researchers
A) Read the article/watch video about the definition of Red Ocean and Blue Ocean Strategy
Article:https://www.blueoceanstrategy.com/what-are-red-blue-oceans/?fbclid=IwAR3ZKPTv3a1sLZ2DGRdiZeGKxn-kpG0JjHHr3pa3UwH1wRufJh6aBaECupc
Video: https://youtu.be/sYdaa02CS5E
B) Look at the Emerging Market Economies in 2019 infographic in the following article and select 5 countries – you will explore the markets of your selected countries in the next steps. https://www.focus-economics.com/blog-tags/infographic
C) Using the internet, do your own research to find the markets in the Blue Ocean of your selected countries. Remember, the blue ocean is the unexplored ocean and you are looking for indicators of new markets, so when researching you might be looking for most innovative businesses, start-ups, or crowd funders.
D) Using the "Step 1" table as a guide, record the countries and markets which you find the most interesting.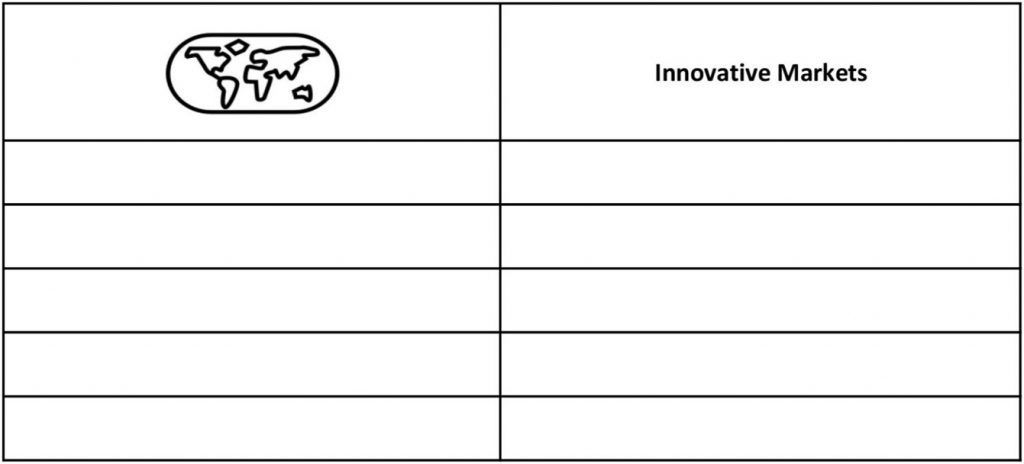 E) From your recorded countries and markets, identify and select the country and market that interests you most and you wish to focus on.
Step 2 Trends
A) Read article/watch video about trends in business in the world for 2020
https://www.entrepreneur.com/article/338514
https://www.forbes.com/sites/johnhall/2019/11/24/5-trends-in-entrepreneurship-you-cant-afford-to-ignore-in-2020/#35a3a9ed1eb0
B) Write down 3 of the most important trends. Now, choose one of the trends for your concept.
Step 3 Imagining
To begin, read the linked article and see the infographic labelled "Disney's Creative Strategy" for background on this method.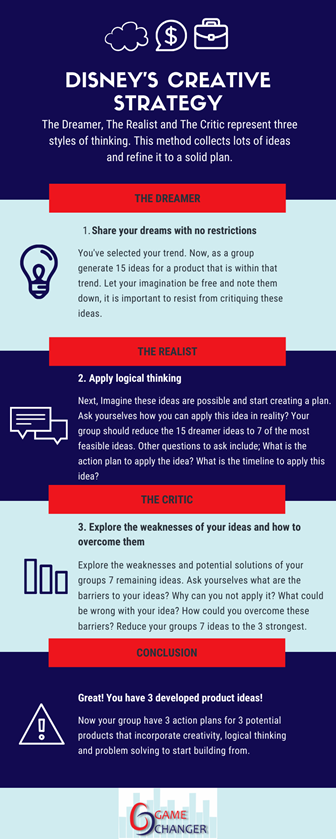 You can do this task in two different ways
Way 1) Imagine you have moved to your selected country. Now you are developing the market your selected on the previous task according to the most important trend for you. Split your team into 3 little teams – The dreamer, The realist, The critic. Follow the instructions on the infographic.
Way 2) Imagine you have moved to your selected country. Now you are developing the market your selected on the previous task according to the most important trend for you. You are working as one team, but change your hat for The dreamer, The realist, The critic. Follow the instructions.
The dreamer – 15 ideas
The realist – 7 ideas
The critic – 3 ideas
In the end of this steps you will have 3 ideas for your concept.
Step 4 Brainstorm
Discuss your 3 ideas according to these points, write down information in a table:
A)Target audience
https://buffer.com/library/marketing-personas-beginners-guide
https://medium.com/brand-language/storyboards-a-new-way-to-understand-your-audience-eae7d09bf543
https://www.justinmind.com/blog/user-persona-templates
Use the table about your Target audience as a guide, the best way is to create three type of persona's for every product idea. We propose to you to analyse your target audience using the personas method – this method is detailed in the article highlighted in red.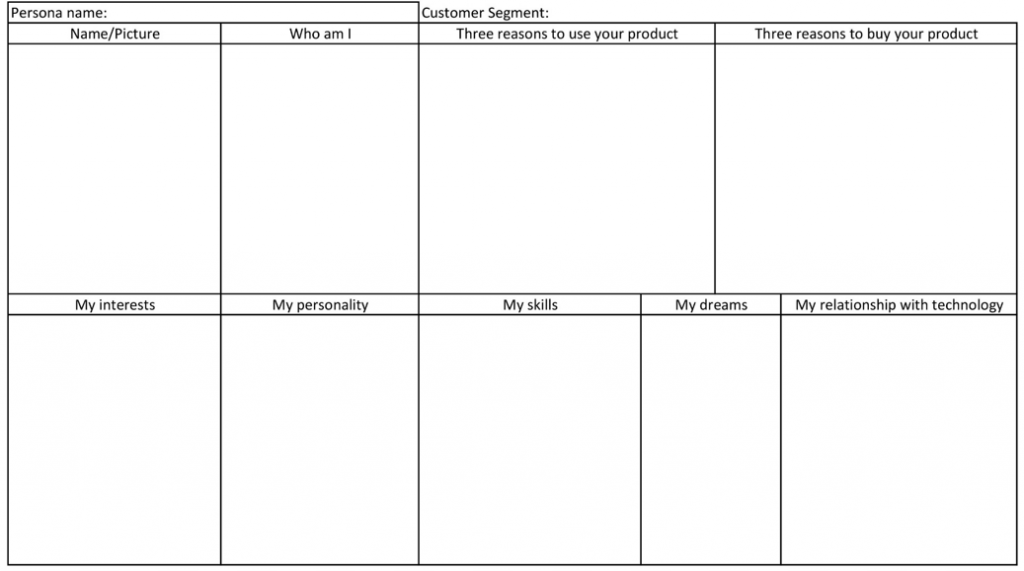 B) Unique selling points
https://www.sitepoint.com/how-to-create-unique-selling-proposition
https://www.shopify.com/blog/unique-selling-proposition
For each of your 3 ideas/concepts note down the following points suggested in table using the 1st article for instruction.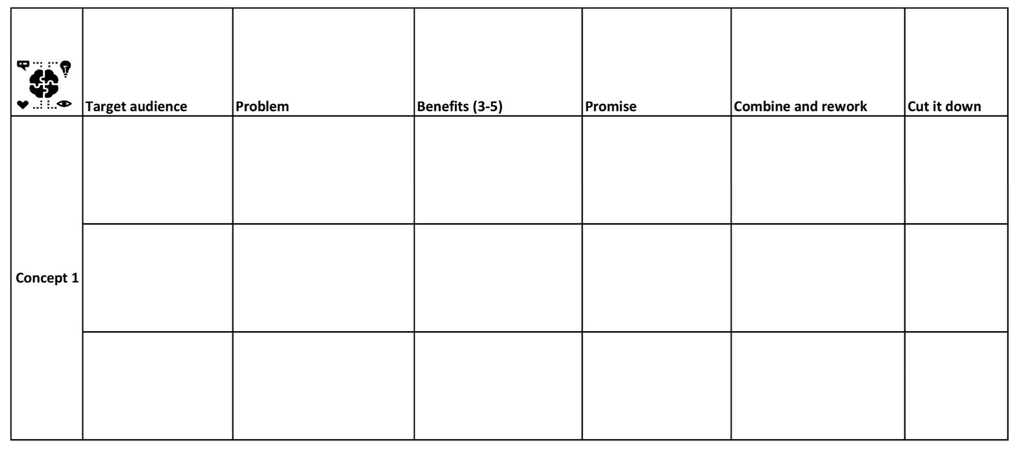 C) An emotional connection to a product
https://medium.com/swlh/the-power-of-emotions-in-marketing-aa8903212fdb
Read the article highlighted in green (How to create emotionally resonant marketing experiences for your shoppers).
Choose the main important persona for each of the three concepts
According to this article create your ideas about emotional triggers/elements for advertisement, use the table below as a guide for each of your 3 concepts.
https://www.widerfunnel.com/emotional-relevance-marketing/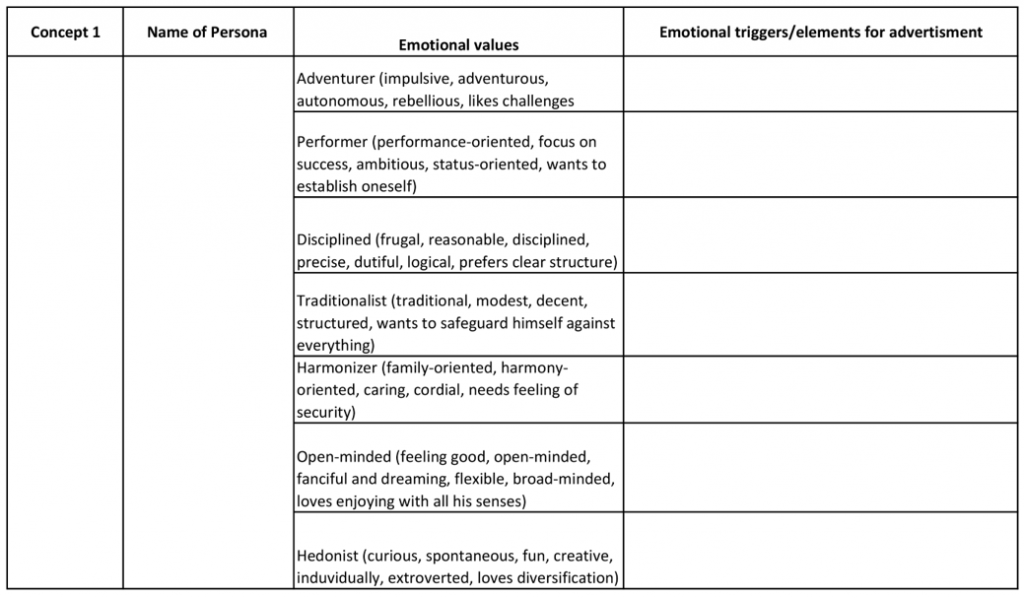 Step 5 Google Trends
A) Watch this video about Google Trends
B) To analyse your 3 concepts separately and then to compare with each other. https://trends.google.com/trends/

Step 6 Presentation
A) Imagine that you are going to present your final concept to shareholders.
B) Make sure you cover all the points in the presentation template provided to present your concept.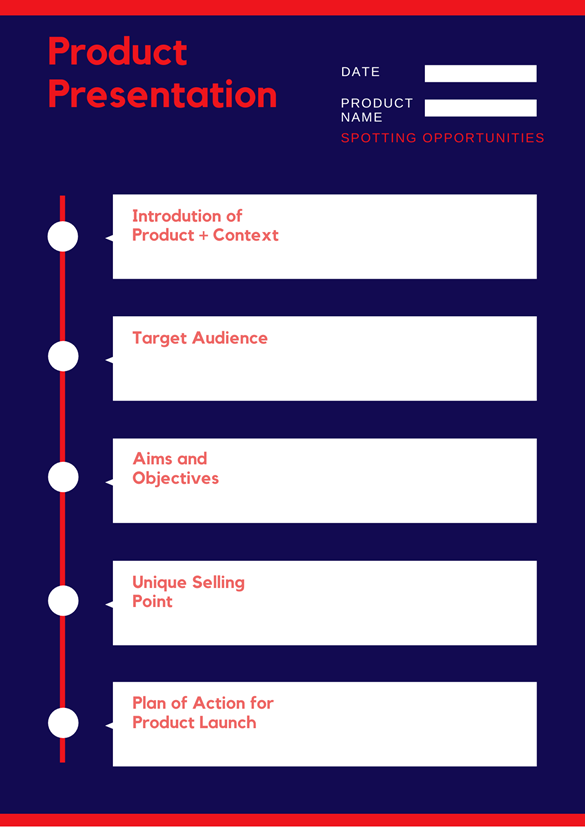 EVALUATION
Hopefully this task has given the space to reflect on and spot opportunities! Please fill in this short evaluation form: https://forms.gle/iBZA5HexLc6ifByP8 Optional Group Evaluative task – After individuals have completed the self-evaluative task, the group should gather together in a circle. Each person should say one word about how they found the task and present their drawings with a brief explanation to the rest of the group (if they feel comfortable to do so). Optional Group Evaluative task 2 – Test their knowledge with this short Kahoot: https://create.kahoot.it/share/share/test-your-knowledge/2f2b725f-eab7-41d9-8c55-3a2b3163bd10

Knowledge: Factual knowledge of how to identify opportunities to develop further the value-creating activityFactual knowledge of how to transform ideas into solutions that create values for othersFactual knowledge on how to search for new solutions that improve the value-creating processTheoretical knowledge of how to guide strategic decision makingTheoretical knowledge about innovations and its impact on the society, culture and the marketTheoretical knowledge about problem solving strategies in the business fieldDescribe different analytical approaches to identify entrepreneurial opportunitiesCombine knowledge and resources to achieve valuable goals

Skills: Identify needs and challenges that need to be metCapitalise on and shape opportunities to respond to challenges and create value for othersDevelop several ideas and opportunities to new challengesDescribe different approaches to shaping open-ended problemsApply different problem-solving strategies both individually and in a groupDescribe different levels of innovation by giving examplesDiscuss strategic vision for creating valueDiscuss on various long-term sustainable goals and on the course of the chosen action.

Attitudes: Openness to innovationAwareness of different levels of innovationAppreciation of the potential an idea has for creating valueAwareness if the consequences of ideas that bring value and theAwareness of the effect of entrepreneurial action on the target community, the market, the society and environment.Awareness of the role of vision in the business field.

CONCLUSION
Through completing this webquest you have learned the process and demonstrated that you can spot opportunities.

"If somebody offers you an amazing opportunity but you are not sure you can do it, say yes – then learn how to do it later."
Richard Branson